CHRISTMAS & NEW YEAR SERVICE
Please note that we will be closed for Christmas and New Year, from 12 midday on Tuesday 19th December until 9.00am on Tuesday 2nd January 2024. We thank you for your business over the last year and wish you a Merry Christmas and a happy and prosperous 2024.
20% WINTER DISCOUNT!
We are pleased to currently offer a 20% DISCOUNT off all our normal prices.
Just mention….
'WINTER DISCOUNT'
Our incoming phone lines are open 10.00am to 1.00pm and 1.30pm to 3.00pm, Monday to Thursday only, however, we are all here working full, normal hours, i.e. 9.00am to 5.00pm Monday to Friday, so if you need to email, or leave a voicemail, we will gladly respond promptly.
Furniture Re-Upholstery
For more than 35 years we have been delighted to see that our Re-Upholstery services have been increasingly in demand! We firmly believe this is because we work a little differently…


Filmed by video production agency TopLine Comms
Click the short video above to see how our Re-Upholstery service works..
The majority of our customers for our Re-Upholstery service are local enough for us to collect and deliver their furniture in our own transport. However, if you live elsewhere in Mainland UK and have the ability to transport your furniture to us… we can happily help you!
OUR 'TRANSPARENT' WAY OF DOING THINGS
We believe in conducting our expert upholstery services in a proper and Professional manner, that's why we are more than happy to show all these images of our skilled upholsterers carrying out work for actual, real customers!
If a picture paints a thousand words…..take a look at our Previous Orders Gallery as there you will find images of hundreds of orders we have completed and you will be able you to see the standard of our workmanship and how some of our 1,400 fabrics look 'in situ'.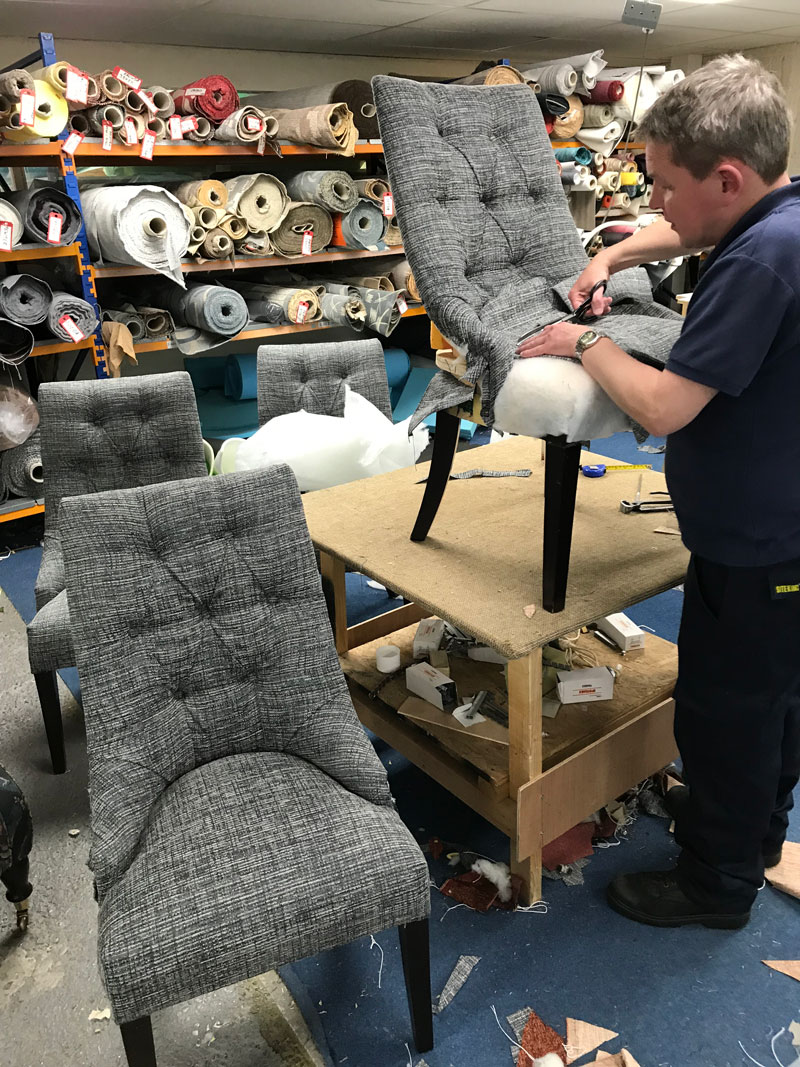 NOT A CHEAP JOB, A PROFESSIONAL JOB
In all the many years we have been carrying out Re-Upholstery, we have never strived to be the cheapest and to cut corners.
Instead, we promise you that if having discussed your project with us, you decide to favour us with your custom, you will receive a first rate job, carried out in a professional manner and using high quality materials.


If you have ERCOL furniture, please see our dedicated pages by clicking here
HOW OUR RE-UPHOLSTERY SERVICE WORKS
1
Firstly, if you could please send us some images of your furniture, one of our friendly, experienced staff will contact you to discuss the work you are considering having done. They will also explain the various options you have open to you and the associated costs, all in a no-pressure, professional manner. You'll be pleased to know that none of our staff are paid commission!
At any stage of your enquiry, you can view our online Fabric Gallery. We will be more than happy to post you fabric samples of any of the fabrics you like the look of, for you to view in your home, in the room where your furniture is situated. This enables you to see how various fabrics fit in with your décor, natural light etc.
2
When you have finalised your choice, we will then give you a written Quotation, not an estimate. This is a crucial difference! In other words the price we Quote you is fixed, and we will not ever charge you anything extra, regardless of what we might find when we strip down your furniture!
If you are happy to accept our Quotation, then we will agree a convenient date to carry out the work.
3
Our Craftsmen (and Craftsladies!) will carefully remove all the original fabric and strip down your furniture to its component parts. At this point the frame will be carefully examined and any weak points or looseness will be skilfully rectified, thus ensuring the frame will give many more years of satisfactory use.
All springs and webbings will be checked and replaced where necessary. We would always replace anything that might give trouble in the future, rather than leave it and hope for the best!
All padding and scrim will be examined and replaced as needed.
Your furniture will then be expertly 'built back up again', adding new padding and linings where we need to, as we go.
Please note that all the above work and comoponents are included in our quotation. We will never increase the price you have agreed to.
The final upholstering of your furniture in your chosen fabric is where attention to detail is crucial and as a result we will give this the time it really deserves.
4
When complete we will carefully protect your furniture until the time we most look forward to; when we reveal to you your newly transformed piece of furniture.
The positive reactions we receive, often along the lines of "I can't believe it's still my original furniture underneath", or "It's like a new piece of furniture", or sometimes simply "WOW!" make all our work worthwhile.
SO, WE'D LOVE TO HEAR FROM YOU!
We would be delighted to hear from you to discuss any items you might be considering having Re-Upholstered. We promise you a friendly, informative response!