CHRISTMAS & NEW YEAR SERVICE
Please note that we will be closed for Christmas and New Year, from 12 midday on Tuesday 19th December until 9.00am on Tuesday 2nd January 2024. We thank you for your business over the last year and wish you a Merry Christmas and a happy and prosperous 2024.
20% WINTER DISCOUNT!
We are pleased to currently offer a 20% DISCOUNT off all our normal prices.
Just mention….
'WINTER DISCOUNT'
Our incoming phone lines are open 10.00am to 1.00pm and 1.30pm to 3.00pm, Monday to Thursday only, however, we are all here working full, normal hours, i.e. 9.00am to 5.00pm Monday to Friday, so if you need to email, or leave a voicemail, we will gladly respond promptly.
Ercol Furniture Cushion Re-upholstery
We have the experience and pride to ensure your treasured piece of Ercol Furniture can once again look and feel as exceptional as it once did!

We operate a professional
MAINLAND UK BESPOKE ERCOL CUSHION SERVICE
Our bespoke Ercol Cushion Service enables us to professionally recover existing furniture cushions, or make new made-to-measure replacement cushions, no matter where you are located in Mainland UK.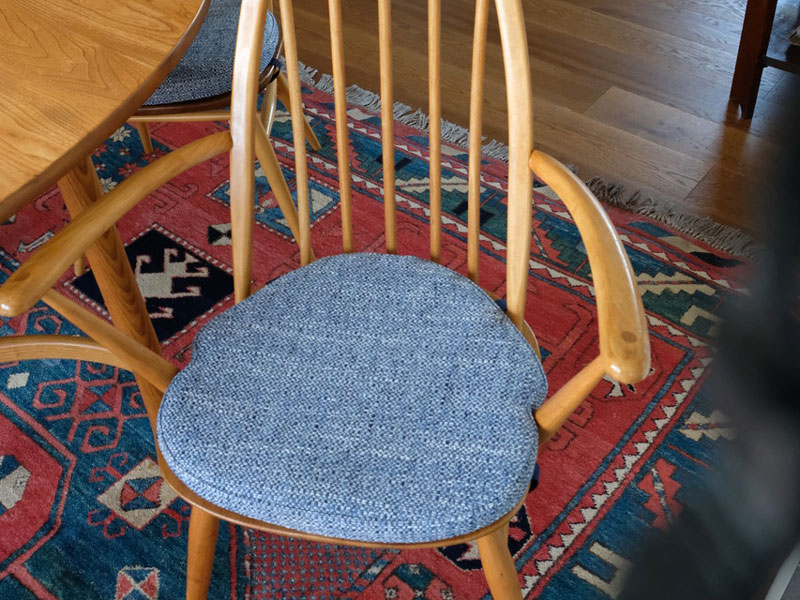 "To say we are pleased would be an understatement. Splendid cushions for our Quaker chairs – expensive but worth every penny!"
Jeff Stamatakis, Vale of Glamorgan
"Fantastic company, workmanship superb, attention to detail faultless, pattern matched, quality exceptional and I won't go anywhere else for Ercol cushions and covers. I am so pleased with my dear late mother's Ercol Rocking Chair that her and my late Dad struggled to purchase in the 1950's after the war when money was short and working hours long. Thank you Bristol Upholstery for being No.1 on the grid on Google."
Christine Fairbrother, 5-star Google Review
"Hello, my Ercol sofa cushions were delivered today and this is just to say you have done a wonderful job. I am so pleased with the material I chose, it blends in with my existing furniture. The service you provided was very professional and I will have no hesitation in recommending you. Please pass my thanks on to all your staff. Best wishes."
Mrs D Springall, Wiltshire
"Many thanks for a good job. Here are pictures of one of the chairs with the cushions in situ."
Karen Mautner, London
"Thank you so much for reupholstering my Ercol Jubilee sofa's cushions so brilliantly - you've done an excellent job and they look wonderful on the frame! I've had many compliments about how great they look and have recommended you to several people. Thank you again for your hard work (it can't have been an easy one)!"
Joss Waterfall, Dorset