WE'RE BACK!
We hope all our customers, old and new, are safe and well.
Having temporarily closed our business on 24th March, we began a PHASED re-opening on 1st June. As a result of the on-going Covid-19 situation, the following temporary changes to our business are necessary:


• Our Reception and Showroom will regrettably NOT be open to visitors.

• Our phone lines will be open 10.00am to 3.00pm Monday to Thursday.

• Due to the very large number of enquiries we have received over the 10 weeks we have been closed, please bear with us while we gradually work through these and respond.

• For any new enquiries, please email rather than phone, if at all possible.


We thank you for your understanding during this difficult time and we wish you and yours all the best and hope you can stay safe. We have been in business for 32 successful years and we look forward to serving you for another 32 years!

Thank you and best wishes


The Bristol Upholstery & Soft Furnishings Team
Ercol Furniture Cushion Re-upholstery
We have the experience and pride to ensure your treasured piece of Ercol Furniture can once again look and feel as exceptional as it once did!


Filmed by video production agency TopLine Comms
Click the short video above to see what we offer in terms of Ercol Cushion Upholstery and Re-upholstery.
We operate a professional
NATIONWIDE BESPOKE ERCOL CUSHION SERVICE
Our bespoke Ercol Cushion Service enables us to professionally recover existing furniture cushions, or make new made-to-measure replacement cushions, no matter where you are located in the U.K!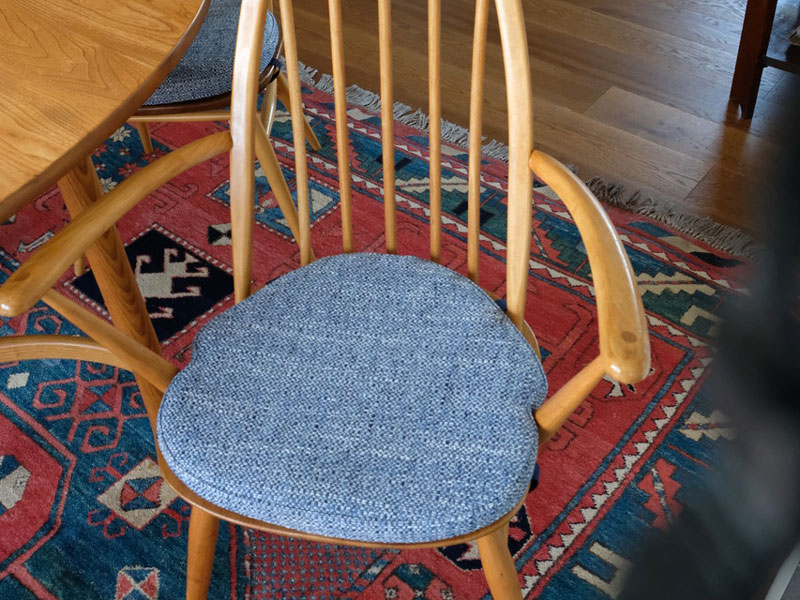 "To say we are pleased would be an understatement. Splendid cushions for our Quaker chairs – expensive but worth every penny!"
Jeff Stamatakis, Vale of Glamorgan
"Fantastic company, workmanship superb, attention to detail faultless, pattern matched, quality exceptional and I won't go anywhere else for Ercol cushions and covers. I am so pleased with my dear late mother's Ercol Rocking Chair that her and my late Dad struggled to purchase in the 1950's after the war when money was short and working hours long. Thank you Bristol Upholstery for being No.1 on the grid on Google."
Christine Fairbrother, 5-star Google Review
"Thank you so much for reupholstering my Ercol Jubilee sofa's cushions so brilliantly - you've done an excellent job and they look wonderful on the frame! I've had many compliments about how great they look and have recommended you to several people. Thank you again for your hard work (it can't have been an easy one)!"
Joss Waterfall, Dorset
"Many thanks for a good job. Here are pictures of one of the chairs with the cushions in situ."
Karen Mautner, London