IMPORTANT INFORMATION
We hope all our customers, old and new, are safe and well
Due to COVID 19, we are working under the following temporary arrangements:
• Our Reception and Showroom will regrettably NOT be open to visitors.
• Our incoming phone lines will be open 10.00am to 1.00pm and 1.30pm to 3.00pm, Monday to Thursday only.
REDUCED STAFFING LEVELS
Due to some of our loyal staff having to isolate because of COVID-19, we are already experiencing staff shortages across our business and anticipate this situation continuing during the Pandemic.
EXISTING ORDERS
If you have an order already placed with us, the lead time originally discussed with you will very likely now be lengthened.
NEW ENQUIRIES & CONTACTING US
For any new enquiry, or to contact us regarding an existing order, please email rather than phone, if at all possible. Due to the large number of enquiries we are dealing with, and potential reduced office staff levels, please bear with us while we respond.
We thank you for your understanding during this difficult time and we wish you and yours all the best and hope you can stay safe. We have been in business for 32 successful years and we look forward to serving you for another 32 years!
The Bristol Upholstery & Soft Furnishings Team
Visiting our Bristol Showroom
We've always passionately believed that our customers should benefit from a professional, pleasant environment in which to view what we have to offer.


Filmed by video production agency TopLine Comms
Better than any amount of words… we've made the short video above to to show you exactly why so many people make the trip to come and visit our Showroom.
Well, having recently bought the premises adjoining our original workshop, we now have an expanded 3,000sq ft Showroom that we'd love you to see!
This has also enabled us to create a 'Customer 'Viewing' Gallery' as shown below…
We have a unique 'transparent approach' to the upholstery work we carry out. We've nothing to hide… we are proud of the professional manner in which we operate… so all of our visitors can now see how we work for themselves!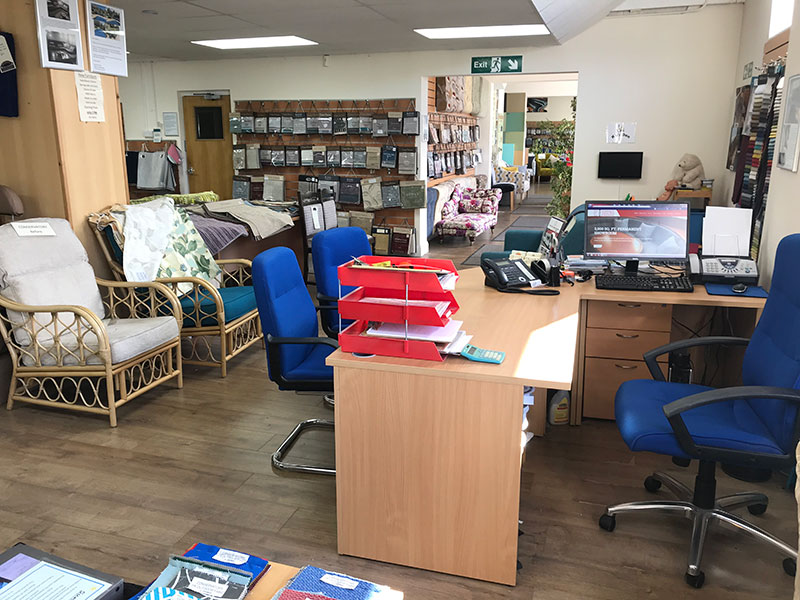 So come and see us, you'll find no high street parking problems, but you WILL find a warm welcome, a cup of tea or coffee and as much or as little information as you wish from our knowledgeable, non-commission, friendly staff.
Why not take a VIRTUAL TOUR of our Showroom and Workshop by clicking on the image below…
UPHOLSTERY
Come and see what we do and how we do it, plus a showroom full of upholstered furniture that we've 'worked our Magic' on!
FABRICS
We have thousands of fabrics on display, contemporary and traditional, in a wide price range. These are all available for us to use for any work we do for you, or for you to order as cut lengths by the metre, if you prefer.
We are proud to be a 'Partner Account' for Linwood Fabrics and Wallpapers, one of the foremost fabric brands in the UK.
This means we have their complete fabric collection on view (over 50 pattern books showing over 3,000 options!)
We also have hundreds more fabrics on display from other reputable brands such as Ross, Bill Beaumont, Hale and Rouse, Fryetts, Woodside, Edmund Bell and many more.
Swatch cuttings can be arranged for you to view any fabrics you like the look of, in the comfort of your own home.
FILLINGS
Whether you're looking to try out new cushions for a sofa we're re-upholstering for you, or you'd just like us to refill your existing cushions, then our Showroom has the answers.
We have a wide range of high quality cushion fillings for you to sit on and try. Why order foam or feather cushions from suppliers where you've no idea what you're going to receive? Come in to our Showroom so you can TRY BEFORE YOU BUY!
MATTRESSES
Over the last 18 years we have supplied hundreds of high quality foam mattresses to much acclaim from our customers, many of whom have lived hundreds of miles away! But if you're local enough to drop in to our Showroom, you can have the benefit of lying on many different mattress variants.
We can show you how we make-up 'sandwich' mattresses, using different firmnesses of foam for each layer.
Our unique 'Mattress Menu' enables you to choose the combination you'd like to try and, seconds later, it will be ready to lie on and see what you think! All in an unhurried, no pressure, pleasant atmosphere.
So come and see us, you'll find no high street parking problems, but you WILL find a warm welcome, a cup of tea or coffee and as much or as little information as you wish from our knowledgeable, non-commission, friendly staff.

Bristol Upholstery & Soft Furnishings Co.
Block 11, Cater Business Park, Cater Road,
Bishopsworth, Bristol BS13 7TW
Tel:
E-mail:

Due to the Pandemic our office hours will temporarily be Monday to Thursday, 10.00am - 3.00pm, and unfortunately our Showroom will NOT be open to visitors.